Belkin
Belkin is a well known company which makes routers, mobile accessories, tablet accessories, and laptop accessories. They make quality products which have good build quality and work for quite long. Their routers are known for their lower price and good build.
Belkin was founded in 1983 in Hawthorne, California. It has been named twice in the list of 500 fastest growing private companies issued by Inc Magazine in the US. It's offices are all over the world, including in the UK, Australia and Hong Kong.
Some popular models are:
N450 DB
N600 DB
N750 DB
N900 DB
AC1000 DB
AC1000 DB
Belkin N900 DB
The login in Belkin routers is very easy compared to routers like Netgear, Dlink etc. There is only one address for Belkin router login, and that is 192.168.2.1. It is different from 192.168.1.1 and 192.168.0.1 that other companies use. It is not clear why Belkin does this, maybe to differentiate itself. This approach is not great as it gives another thing to remember to people dealing with various brands of routers.
Belkin does not require a password the first time you login. But it is highly encouraged to add a password so as to give a layer of protection against cyber attacks. So just pressing Submit will allow you to access the login page.
A image of the first Belkin router login.
Belkin router login page, like Netgear's, may have different layouts depending on the model. One such page is shown below.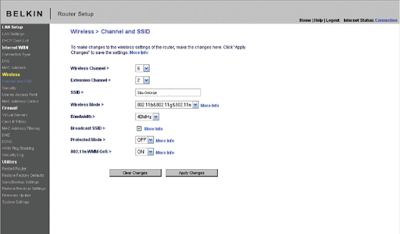 Belkin Login page showing wireless options
Further posts will elaborate more problems faced in routers from Belkin.